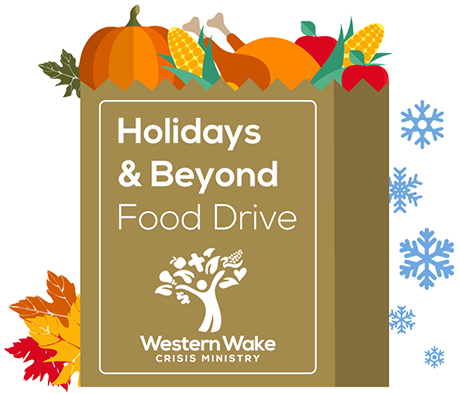 Thank you to our community which has been so gracious already this holiday season. We will receive food donations beginning January 4, 2022.
November 2 - December 18, 2021
Weekday drop-offs:*
Anytime between 9 am - 12:30 pm, Mon - Thurs, during the dates listed above.
Weekend drop-offs:*
By appointment only.
* For large drop-offs, please call (919) 362-0657 x 4 to arrange a drop-off time.
The combined cost of purchased items should be around $50 (see shopping list below).
Please also consider adding a small financial contribution ($15-20) to help us round out our Holidays & Beyond Food Drive. Checks can be made payable to WWCM and given directly to your church coordinator or to a WWCM staff person. (Checks or gift cards left in bags or boxes may get misplaced). Financial donations can also be made here:
Please place the following list of items in a sturdy bag or box:
1 dish soap

1 laundry detergent

2 packages of 4-roll toilet paper

3 cans of fruit

6 boxes of mac & cheese

4 cans of meat (tuna, chicken, salmon, etc.)

3 cans of soup

2 lbs. of rice or pasta

4 cans of vegetables (mixed veggies or carrots - no green beans or corn)

2 cans of pasta sauce (e.g., Ragu)

2 cans of tomatoes (diced, whole, sauce, etc.)